Beauty & Self
Books & Music
Career
Computers
Education
Family
Food & Wine
Health & Fitness
Hobbies & Crafts
Home & Garden
Money
News & Politics
Relationships
Religion & Spirituality
Sports
Travel & Culture
TV & Movies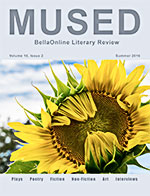 For many people, summertime is the perfect time to explore creativity. Plein air artists bring easels to gardens and beaches, showcasing nature's colors in oils, acrylics, and watercolors. Photographers ferret out a million sights to immortalize. Poets and writers stretch languidly beneath a shady oak tree, listening to the gentle buzz of insects, and constructing entire worlds out of the ether.

Enjoy the creativity of our community of artists - and then explore your own! We'd love to see your works for upcoming issues!

Summer Solstice 2016 issue of Mused

Planting and Caring for Pomegranate Plants
Landscaping - Connie Krochmal, Editor

Pomegranate is easy to transplant. It requires a minimum of care and is generally free of pests and diseases.




Your Fifth Amendment Rights
Crime - Vance R. Rowe, Editor

We have all heard the Miranda Warning being given and most of us can recite it, but, do you know what the Miranda Warning actually gives you protection against and what it doesn't protect you from?




Sketchpad Widget at Bookry - The Graphics
Digital Art and Design - Diane Cipollo, Editor

The Bookry Sketchpad widget for iBooks Author is one of the most creative widgets of all their widgets. It gives the readers the opportunity to express their creative interpretation of the book's story.




Secret Clinical Strength Smooth Solid Review
Body Care - BB Lee, Editor

Secret Clinical Strength Smooth Solid is suppose to deliver customized protection to you instantly. Read my review on this deodorant before you buy.




Beginner tips for using the Subway
Family Travel - Tiffiny Spire, Editor

Are you new at riding the subway or using mass transit in general? These tips for beginners break the process down into easy steps that will help you ride the rails like a pro.




Know Your Catholic Faith
Catholicism - Melissa Knoblett-Aman, Editor

Knowing your Catholic faith has always been important, and even more so in this day and age. We must all, as individuals, know what our Church teaches and what she has always taught.



| Google+ |
E D I T O R R E C O M M E N D E D
True Balance by Sonia Choquette


This terrific guide gives you fun, everyday ideas with which to open and strengthen all seven of your chakra energy-centers, including the third-eye chakra and crown chakra which help you to connect with psychic phenomena and the divine.
TomTom ONE 130s GPS


Looking for a great GPS unit for your car? The TomTom ONE 130s is a great, moderately priced GPS system with text to speech capabilities. Spoken street names and TomTomīs EasyPort mounting system make this a terrific GPS unit!