Beauty & Self
Books & Music
Career
Computers
Education
Family
Food & Wine
Health & Fitness
Hobbies & Crafts
Home & Garden
Money
News & Politics
Relationships
Religion & Spirituality
Sports
Travel & Culture
TV & Movies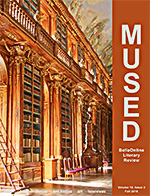 The autumn equinox, that balance point of light and dark, is closely tied to the moon. In China the Moon Festival happens around the autumn equinox, celebrating gratitude and the warmth of good friends and family. This year it was Sept 15th. Our last eclipse of 2016 was a penumbral lunar eclipse on Sept 16th. It fell in conjunction with the full harvest moon, also a symbol of thankfulness and appreciating those who care about you. The autumn equinox is a perfect time to add to those celebrations. It's a wonderful moment to treasure all we have and to share warmth with those who support us.

Autumn Equinox 2016 issue of Mused

Simple Dainty Edging Beginners
Tatting - Georgia Seitz, Editor

A Simple Dainty Edging for Beginners. This edging appeared in the Coats & Clark Booklet #159, "Priscilla Edgings for all purposes," and is used as a teaching tool with their permission.




Berbere Seasoning Ideas
Sandwiches - Connie Mistler Davidson, Editor

In my kitchen, except for salt, truffle salt, pepper, and Lawry's Seasoned Salt, Berbere Seasoning is my favorite seasoning. It doesn't just add heat to whatever you sprinkle it over, it adds a delicious and delicate flavor. Here are some ways to use Berbere Seasoning.




The Evergreen Club Experience
Senior Travel - Hazel M. Freeman, Editor

The Evergreen Club is a membership only club for those 50 and older. A $75.00 annual membership fee will save you hundreds on your first trip. Members have access to hundreds of B & B homestay locations across the country for overnight lodging, with breakfast, for about $15.00 a night.




The Woman at the Well a Divine Appointment
Christian Living - Lynne Chapman, Editor

When you meet a stranger, what is your first impression? Our Lord doesn't look at people they way we do - the outward appearance. He sees deep into the heart.




Happy Accidents
History - Vance Rowe, Editor

Did you know that Velcro was developed when a scientist found burdocks on his dog's fur? Or that the potato chip was invented by an angry chef? Read about these and more "happy Accidents" that became everyday household products.




Strange Texas Laws
Crime - Vance R. Rowe, Editor

It is illegal for one to sell one's own eyes in Texas and it is also illegal to urinate on the Alamo. Read these and other strange laws on the books in Texas.


| Google+ |
E D I T O R R E C O M M E N D E D
Lidia´s Italy


A great Italian cooking book, with a diverse selection of Italian recipes that will takes the readers on a journey through some of the most beautiful areas of Italy and their grand culinary traditions.
How to Write Descriptions of Eyes and Faces


by Val Kovalin, your BellaOnline editor for the Fiction Writing site. Learn to describe the appearance of the eyes, actions involving the eyes, and how to describe eyelids, eyebrows, and eyelashes. More than 2,000 words explaining 82 color names to assign to eyes. Facial shapes, forehead, ears, cheekbones, nose, lips, chin, and facial hair. Learn how the face shows different emotions, and more!
iPad Tablet Computer


The iPad is a great tablet computer for surfing the net, checking email, playing games - all while being light and portable.