Beauty & Self
Books & Music
Career
Computers
Education
Family
Food & Wine
Health & Fitness
Hobbies & Crafts
Home & Garden
Money
News & Politics
Relationships
Religion & Spirituality
Sports
Travel & Culture
TV & Movies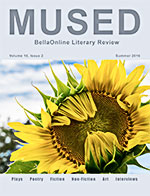 For many people, summertime is the perfect time to explore creativity. Plein air artists bring easels to gardens and beaches, showcasing nature's colors in oils, acrylics, and watercolors. Photographers ferret out a million sights to immortalize. Poets and writers stretch languidly beneath a shady oak tree, listening to the gentle buzz of insects, and constructing entire worlds out of the ether.

Enjoy the creativity of our community of artists - and then explore your own! We'd love to see your works for upcoming issues!

Summer Solstice 2016 issue of Mused

5 Things You Want In Your Closet
Women's Fashion - LaTeisha Clément, Editor

Closet space is just as important in the housing search as the view. Ask your nearest realtor. Women rave about it all of the time. On that note, what's in your wardrobe is very important. Let's take a look at things we should be keeping. 5 Things You Want In Your Closet




Prismacolor Pencils - Review
Crafts for Kids - Launa Stout, Editor

Prismacolor pencils are expensive- but they are worth it. They make the quality of the experience absolutely wonderful, and they last a really long time!




Rehoming Your Beloved Books
Reading - Michelle Anne Cope, Editor

As an avid reader and book lover, you may have books you have read and won't read again. You might also be overflowing with books you will never read, or have recently cleaned out your child's bookcase. This article shares ideas about rehoming your treasured books.




Valuing Stamps
Stamps - Gary Eggleston, Editor

Stamp collecting is not exactly a new trend sweeping through the world; In fact, philately (or the study of stamps), and stamp collecting have been of interest to many enthusiasts for over centuries. In fact, the American Philatelic Society (APS), which is the biggest congregation of philatelists an




Ways To Find Coins
Coin Collecting - Gary Eggleston, Editor

Coin collecting was started only as a hobby for most people, however you can hear what other people say (or you probably have heard yourself) about news of people cashing in on their old coin; and that encouraged more people to go on a coin-collecting streak. If you are one of those people who want




Sour Grapes - Movie Review
Wine - Peter F May, Editor

Sour Grapes is fast paced movie about a multi-million dollar scam in rare old wines, and how a tenacious band of wine lovers turned sleuths to reveal the truth. Peter F May watched in amazement aa people paying the price of a luxury car for one wine bottle didn't even 'kick the tyres'.


| Google+ |
E D I T O R R E C O M M E N D E D
Giada´s Kitchen


In this book each recipe is a burst of taste, colors and combination of flavors; the instructions are really easy to follow for anyone, and the final result of virtually every dish is presented in a beautiful arrangement of photographs.
The Killer Angels by Michael Shaara


Best historical novel ever, and I don´t even like most historical novels. Epic and unforgettably intense! Among other things, reading this will teach you how to hook your readers through writing strong character emotion.