Beauty & Self
Books & Music
Career
Computers
Education
Family
Food & Wine
Health & Fitness
Hobbies & Crafts
Home & Garden
Money
News & Politics
Relationships
Religion & Spirituality
Sports
Travel & Culture
TV & Movies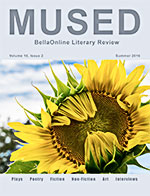 For many people, summertime is the perfect time to explore creativity. Plein air artists bring easels to gardens and beaches, showcasing nature's colors in oils, acrylics, and watercolors. Photographers ferret out a million sights to immortalize. Poets and writers stretch languidly beneath a shady oak tree, listening to the gentle buzz of insects, and constructing entire worlds out of the ether.

Enjoy the creativity of our community of artists - and then explore your own! We'd love to see your works for upcoming issues!

Summer Solstice 2016 issue of Mused


The Use and Abuse of Health Websites and Apps
Geriatrics - Patricia Villani, MPA, PhD, Editor

Since older adults are using the computer more frequently and have more health issues as we age, we need to be aware of the risks of on line health programs and promises. Learn how to use the thousands of health-related websites and store bought applications safely!




Pav Bhaji Recipe
Indian Food - Sadhana Ginde, Editor

Pav Bhaji is Mumbai street food at its finest! It is a delicious combination of soft, buttery bread (pav) served alongside a mixed vegetable mash (known as bhaji). This yummy vegetarian dish can be eaten any time of the day. So try making this soon & enjoy the taste of Indian street food at home!




Lodging Withing Yosemite National Park
California - Korie Beth Brown, Ph.D. , Editor

Visiting Yosemite? There are many choices available for those looking for lodging.




Reaching Out to the Yoga Community
Yoga - Korie Beth Brown, Editor

Reaching out to the larger yoga community can deepen one's practice immeasurably.




Astronomy ABC - H for Herschel Space Observatory
Astronomy - Mona Evans, Editor

The Herschel Space Observatory is the largest telescope ever sent into space. It's an infrared telescope named in honor of William Herschel who discovered infrared radiation, and his sister Caroline who worked with him. What's infrared? Who launched the telescope? What did we learn from it?




Organic Fragrance - A Scent Worth Trying?
Fragrance - Juliette Samuel, Editor

It only makes sense that if you want to eat organic and wear natural fibers, your scents should be organic as well. Class is now in session in the world of organic perfumery.



| Google+ |

E D I T O R R E C O M M E N D E D
How to Buy Your Next Car


A true car buying expert explains in detail how to buy your next car. From credit and financing to dealer cost and sales tactics, "How to Buy Your Next Car" is full of insightful information to help you avoid making typical car buying mistakes.
The Weiser Field Guide to Cryptozoology


The Weiser Field Guide to Cryptozoology by Deena West Budd includes information, interviews, and stories about forty different cryptids seen in various places all over the world by credible eyewitnesses like policemen, rangers, and doctors. Readers will learn where and how to find flying humanoids, hairy humanoids, giants of all kinds including rabbits, bats and spiders, goblins, and vampires.
Making and Dressing Cloth Dolls


This ebook contains patterns and step by step instruction for making 5 different cloth dolls. These are some of the most popular dolls on the Doll Making Site all together in one handy book.