Beauty & Self
Books & Music
Career
Computers
Education
Family
Food & Wine
Health & Fitness
Hobbies & Crafts
Home & Garden
Money
News & Politics
Relationships
Religion & Spirituality
Sports
Travel & Culture
TV & Movies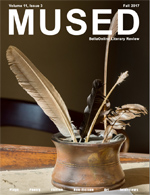 Autumn is a season for counting our blessings. For realizing just how much we have in life where so many others are without. It can often be easy to take things for granted. Things which millions of people desperately dream of having. By pausing for a moment, and looking around with mindfulness, we can find a new center. Begin with fresh energy.

Enjoy the Mused Autumn Equinox 2017 Issue




Sewing and Rag Rugs
Sewing - Cheryl Ellex, Editor

With rustic hospitality assembled into stunning folk art or unstructured design, unassuming strips of wool fabric, thin thread-worn bed linens, denim jeans and shirts made soft by much wearing, today's modern t-shirts and more are economically transformed into humble and functional floor coverings.




Homemade Bathroom Cleaning Product
Cleaning - Tammy Judd, Editor

Have a good arsenal of homemade cleaning products is a sure way to save money and have a healthy home!




The Dangers of Counterfeit Cosmetics
Cosmetics - Katrina Simmons, Editor

Saving money on cosmetics is everyone's dream. That dream may come with a high cost, however, that I'm sure many of us are not willing to pay. The risks of buying knockoffs in the beauty industry is to take a serious gamble with your health. Learn the dangers of buying fakeup, and how to avoid it.




Instant Pot Double Chocolate Zucchini Cake Recipe
Desserts - Karen Hancock, Editor

Craving something moist, chocolatey, and decadent? This cake, made in the Instant Pot or other pressure cooker, is all that, and it's easy too. It can be made in the slow cooker if a pressure cooker isn't available.




Curious Minds Book Review
Suspense / Thriller Books - Karen Hancock, Editor

This is the first installment in the hilarious, but also suspenseful Knight and Moon series. Janet Evanovich has teamed up with Phoef Sutton, and the characters and storyline are delightful.




Change for a Better Life
Baptist - Celestine A. Gatley, Editor

Change is hard for most people. We often get stuck in our daily routines day after day. Just the thought of veering off of course can be stressful. Change does not have to be stressful. It is very simple when change is simply stepping into the next stage in your life.



| Google+ |

E D I T O R R E C O M M E N D E D
Easy Spanish Step-By-Step


Easy Spanish Step by Step offers grammar basics, clearly explained in order of importance, and numerous exercises and engaging readings.
Lidia´s Italy


A great Italian cooking book, with a diverse selection of Italian recipes that will takes the readers on a journey through some of the most beautiful areas of Italy and their grand culinary traditions.
Fall in Love With Your Feminine Power


This 8-week DailyOm online course incorporates meditation, energy healing, and women´s energetics work to help you heal, empower and awaken your connection to your feminine energy body. It includes print materials, video, and guided audio meditation. No prior meditation or energy work experience necessary. Embrace your full power, health, joy, and spirit!