Beauty & Self
Books & Music
Career
Computers
Education
Family
Food & Wine
Health & Fitness
Hobbies & Crafts
Home & Garden
Money
News & Politics
Relationships
Religion & Spirituality
Sports
Travel & Culture
TV & Movies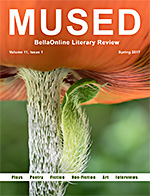 In our modern world of 24-hour diners and around-the-clock email, it sometimes seems as if we've lost track of nature's cycles. But then the Spring Equinox comes along and reminds us to pause. For thousands of years, cultures around the world have recognized this one special day as representing a balance of light and dark. It's a unique moment in time where our world settles in equilibrium – just for a breath. And then the sunlight shines out and pulls us deeper into Spring.

Enjoy the Mused Spring Equinox 2017 Issue




The South Bank, London
Romantic Getaways - Marianne de Nazareth, Editor

There is so much to do on the South Bank, London




Cranberry Cultivation in Various States
Landscaping - Connie Krochmal, Editor

The cultivation of cranberries was a gradual process that evolved at different times in different states.




Customize a Wix ShoutOut For Wedding
Digital Art and Design - Diane Cipollo, Editor

In the previous tutorial, we started our ShoutOut E-invitation for our wedding website. We customized the background image and added another image of the bride and groom. Now we can work on the Our Wedding text.




Fun With Stamp Collecting
Stamps - Gary Eggleston, Editor

Many consider stamp collecting as a fun activity not only for older people but also for kids. It provides a person the pleasure of collecting different types of stamps that he may find in ordinary binders or through his received mail. Some people consider it an exciting hobby. For a beginner, he may




The Coming Cashless Society
Coin Collecting - Gary Eggleston, Editor

Sweden's Sverges Riksbank or central bank is the central bank now in the spotlight in the rush to form a cashless society. This central bank is considering offering a government sponsored digital currency that would be called the e-krona. Recent statistics indicates a significant decline in the use




Sunscreens Exposed
Body Care - BB Lee, Editor

Everything You Always Wanted to Know About Sunscreens.



| Google+ |

E D I T O R R E C O M M E N D E D
The Weiser Field Guide to Cryptozoology


The Weiser Field Guide to Cryptozoology by Deena West Budd includes information, interviews, and stories about forty different cryptids seen in various places all over the world by credible eyewitnesses like policemen, rangers, and doctors. Readers will learn where and how to find flying humanoids, hairy humanoids, giants of all kinds including rabbits, bats and spiders, goblins, and vampires.
Making and Dressing Cloth Dolls


This ebook contains patterns and step by step instruction for making 5 different cloth dolls. These are some of the most popular dolls on the Doll Making Site all together in one handy book.
Pinnacle Car Care


The Creme De La Creme of Ultimate Car Care is In the House! Using Pinnacle´s product line is like a visit to the salon and the results--magnifique!