Beauty & Self
Books & Music
Career
Computers
Education
Family
Food & Wine
Health & Fitness
Hobbies & Crafts
Home & Garden
Money
News & Politics
Relationships
Religion & Spirituality
Sports
Travel & Culture
TV & Movies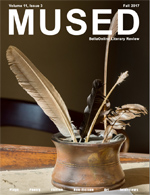 Autumn is a season for counting our blessings. For realizing just how much we have in life where so many others are without. It can often be easy to take things for granted. Things which millions of people desperately dream of having. By pausing for a moment, and looking around with mindfulness, we can find a new center. Begin with fresh energy.

Enjoy the Mused Autumn Equinox 2017 Issue




Dying for Christmas Book Review
Suspense / Thriller Books - Karen Hancock, Editor

Jessica Gold is doing some last minute Christmas shopping, stops for a coffee, and is persuaded to get a drink with a very good-looking man named Dominic Lacey, who keeps her captive and tortures her. She certainly doesn't expect to get out alive.




2018 Golden Globe Nominations Announced
Entertainment News - Trina Boice, Editor

This morning, the nominations for the 2018 Golden Globe Awards were announced! Here is the complete list!




The Origin of Werewolves
Folklore and Mythology - Ky Greene, Editor

Why do we romanticize werewolves? Perhaps part of the allure comes from their ability to access primal qualities we can never known ourselves. Perhaps part of it comes from their supposed origin.




Best Holiday Gift - The Gift that Keeps On Giving
Nutrition - Moss Greene, Editor

What is the gift that keeps on giving? It's the best holiday gift a woman can give her loved ones. This year how about giving the gift that keeps on giving?




Wind River Film Review
Drama Movies - Angela K. Peterson, Editor

Taylor Sheridan wrote and directed this sober tale about the rape and murder of Native American women on the Wind River Reservation. Jeremy Renner and Elizabeth Olsen star.




Hanky corner Is it chemical lace?
Tatting - Georgia Seitz, Editor

This type of machine-made lace was first heavily embroidered on a fabric background. Then the entire fabric is treated with a chemical which dissolved the fabric leaving only the "lace" behind.



| Google+ |

E D I T O R R E C O M M E N D E D
How to Buy Your Next Car


A true car buying expert explains in detail how to buy your next car. From credit and financing to dealer cost and sales tactics, "How to Buy Your Next Car" is full of insightful information to help you avoid making typical car buying mistakes.
The Weiser Field Guide to Cryptozoology


The Weiser Field Guide to Cryptozoology by Deena West Budd includes information, interviews, and stories about forty different cryptids seen in various places all over the world by credible eyewitnesses like policemen, rangers, and doctors. Readers will learn where and how to find flying humanoids, hairy humanoids, giants of all kinds including rabbits, bats and spiders, goblins, and vampires.
Mastering Essential Math Skills


This exercise book is an excellent resource to practice and review math skills youŽll need to establish a strong foundation and smooth transition into Algebra and other higher math courses. Workbooks are available for 4th – 5th grade and middle school / high school.