Beauty & Self
Books & Music
Career
Computers
Education
Family
Food & Wine
Health & Fitness
Hobbies & Crafts
Home & Garden
Money
News & Politics
Relationships
Religion & Spirituality
Sports
Travel & Culture
TV & Movies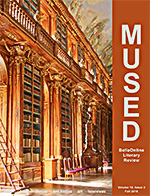 The autumn equinox, that balance point of light and dark, is closely tied to the moon. In China the Moon Festival happens around the autumn equinox, celebrating gratitude and the warmth of good friends and family. This year it was Sept 15th. Our last eclipse of 2016 was a penumbral lunar eclipse on Sept 16th. It fell in conjunction with the full harvest moon, also a symbol of thankfulness and appreciating those who care about you. The autumn equinox is a perfect time to add to those celebrations. It's a wonderful moment to treasure all we have and to share warmth with those who support us.

Autumn Equinox 2016 issue of Mused


Joel's Timeless Message
Christian Living - Lynne Chapman, Editor

Joel was a prophet from about 835 to 796 BC. His name means Yahweh is God. His book in the Bible contains a message for us today.




Shopping to go see the three A's in Tennessee
Romantic Getaways - Marianne de Nazareth, Editor

Looking forward to spend time with the kids in Tennessee.




XYZ Social Media Auto Publish Plugin
Flash and Animation - Diane Cipollo, Editor

If you want to get your video and animations noticed on the big wide web, you need to do some social marketing. The XYZ SMAP Social Media Auto Publish is one option for auto publishing to your social networks directly from your Wordpress site.




Prenatal Iodine
Infertility - Hannah Calef, Editor

Before you conceive is the best time to check out whether you re getting enough iodine for pregnancy




Get Ready for Preschool Workbook Review
Reading - Michelle Anne Cope, Editor

If you have a pre-kindergartner, this book is perfect for them to study along with their siblings or on their own. Combined in a sturdy hard spiral binder, it includes 469 activities and 2,955 illustrations. This article reviews the activities in this fun and colorful teaching tool.




White Mulberry
Landscaping - Connie Krochmal, Editor

White mulberry has been grown for over five thousand years as food for silkworms in China. It has been introduced to many other parts of the world.



| Google+ |

E D I T O R R E C O M M E N D E D
The Weiser Field Guide to Cryptozoology


The Weiser Field Guide to Cryptozoology by Deena West Budd includes information, interviews, and stories about forty different cryptids seen in various places all over the world by credible eyewitnesses like policemen, rangers, and doctors. Readers will learn where and how to find flying humanoids, hairy humanoids, giants of all kinds including rabbits, bats and spiders, goblins, and vampires.
Patient Whiz app for iOS


Track your blood pressure, cholesterol, diet, exercise, EKGs, lab results, and much more! Scan, e-mail, record, and print vital health information. Slash your medical bills. Expedite your diagnoses. Doctor-recommended.
Paradise in Plain Sight


Paradise in Plain Sight: Lessons from a Zen Garden by Zen Priest Karen Maezen Miller, is both memoir and Zen guide. Maezen Miller shares experiences repairing and tending a historical Japanese garden in her own backyard, guiding the reader towards direct insight. It is beautifully written, honest, and relevant to the modern seeker of any faith.